Welcome to Annie Lane
Annie Lane celebrates natural fragrance. 
The Annie Lane collection has been meticulously curated to inspire and evoke memories and to add a sense of wellbeing.
Made with the highest integrity and unwavering desire to create the most unique and personal scents, Annie Lane home fragrances are beautiful hand poured products that provide the ultimate scent experience.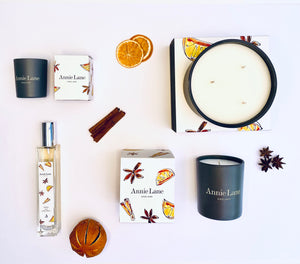 ANNIE LANE
Christmas Collection
SPICE TRAIL
Capture the festive spirit with the unique and evocative fragrance of zesty citrus and warm golden spices, melting into a scent of fresh pine needles which instantly transports you into an amazing winter wonderland, filled with all the aromas of the season.
Luxurious candles hand poured in the UK and crafted using high quality natural waxes.